From the time I was very young, just 6 weeks old it turns out, I spent nearly every day with my grandmother while my mother worked and my dad went to medical school, and then residency, and …. well, you get the idea.  Her love language was definitely service: cooking, reading stories, sewing little, and big, projects.
She had a fryer which sat next to her stove, and I remember home-made french fries with home preserved spicy ketchup, lots of preserved things.  She also made scones, not the English variety, but essentially fried dough which I was allowed to shake in a brown paper bag containing either powdered sugar, or granulated sugar with cinnamon.  She made delicious triticale bread which we ate with a smear of honey and a slice of Tillamook cheddar cheese.  This is a Grandma sandwich.  She also made very straight bread sticks, not wobbly at all.
And then there were cookies.  I remember baking peanut butter cookies with her once.  When I bake, I use a scale to measure ingredients, whenever possible.  She was more of a pinch-and-jigger cook, just estimating quantities, based on literally decades of experience.    The recipe was in her handwriting on a scrap of paper; I had no idea, or thought really, of where it originated.  Now that is confidence!
There were also chocolate chip cookies, a drop cookie with browned butter frosting, but mostly I associate snickerdoodles with my grandmother.  I don't bake snicker doodles all that often, chocolate chip being the standard here, but whenever I see one, I think of her.  Recently I heard a story on NPR about shared cooking space for start-ups and a baker mentioned a browned butter snicker doodle, I immediately sat down at my computer and began a search.  After a little testing, I worked out the recipe I like and I share it here: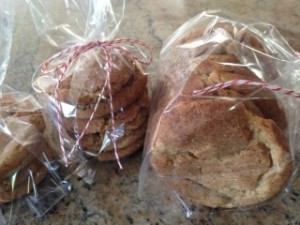 Love is spelled c-o-o-k-i-e
Ingredients
2 1/2 cups all purpose flour
1 teaspoon baking soda
2 teaspoons cream of tartar
1/2 teaspoon cinnamon
1/4 teaspoon salt
1 cup unsalted butter
1 1/4 cup packed brown sugar
1/2 cup granulated sugar
1 large egg
1 egg yolk
1 teaspoon vanilla bean paste*
1 tablespoon plain Greek yogurt
For rolling the cookies:
1/4 cup sugar
2 teaspoons cinnamon
Instructions
In a medium saute pan, not non-stick so that you can see the butter changing color, melt the cup of butter over medium heat. Continue to cook, swirling the pan as necessary to keep the butter moving a bit until it starts to foam. Once this happens, watch carefully as the butter can go from browning nicely to burned in less time than you would think. Remove the pan from the heat and allow to cool for a few minutes. The butter should be brown, and smell wonderfully nutty.
In a mixing bowl, stir together the flour, baking soda, cream of tartar, cinnamon, and salt. Set aside.
In the bowl of a stand mixer, beat together the brown sugar and sugar and slowly add the brown butter until the mixture is uniform. Add egg, egg yolk, vanilla bean paste, and Greek yogurt. Mix on low until all is incorporated. Slowly add in flour mixture and mix on low until combined.
Wrap the dough in plastic wrap and chill for at least one hour and up to three. When ready to bake, preheat oven to 350 degrees. Line a cookie sheet with parchment paper and set aside.
Using a cookie scoop, form balls of dough and roll them in the cinnamon sugar mixture. Place 2 inches apart on prepared cookie sheet.
Bake for 8-11 minutes or until the edges are lightly brown and the tops are crackly. Transfer to a cooling rack.
Makes 3 1/2 dozen
* If you haven't tried Caswell and Massey's Vanilla Bean Paste, you are in for a treat.
http://inthechairs.com/love-is-spelled-c-o-o-k-i-e/