The title here is a bit of a misnomer since just about everything French is a favorite with me, but this entry is not about me.  It is about Willard, and his French favorite is Bistro Flaubert, a tiny little bistro, seating a maximum of 36 people in a room smaller than my kitchen and presided over by chef Michel Rostang, pictured just over my right shoulder.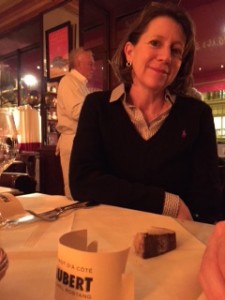 Everything here is delicious.   Together, Alec and I ordered a whole chicken which was served in two separate courses and we both committed a crime against French restaurant etiquette  in failing to eat every last morsel and drip of sauce on our plates.  I am sure Chef Rostang must have been shaking his head and cursing Americans when our food-laden plates were returned to the kitchen.   The first course was sooo delicious, I actually contemplated eating it ALL, but knew there was more coming and was trying to pace myself.
Willard tries to eat in this restaurant every time he is in Paris, which is at least a few times each year, and every single time, he orders molten chocolate cake for dessert.  I have worked at perfecting my recipe, and it is nearly there.  But there is something about eating it in Paris after an uncommonly tasty meal that is difficult to replicate at home.  Still, we keep trying, and whenever I ask Willard what we should have for dessert, his answer is invariably molten chocolate cake.  So here, in honor of his birthday, is our recipe.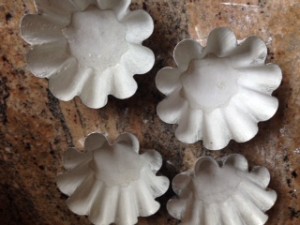 Butter and lightly flour five to six 4-ounce molds, ramekins or custard cups.  Tap out excess flour and set aside.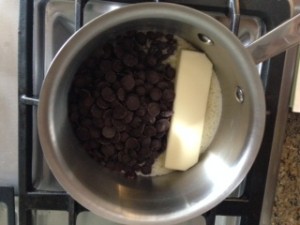 Melt butter and chocolate together either in a double boiler over simmering water, over very low heat, or in the microwave in 30 second intervals.  Using high-quality chocolate and unsweetened butter makes a difference.  These are Callebaut bittersweet chocolate callets.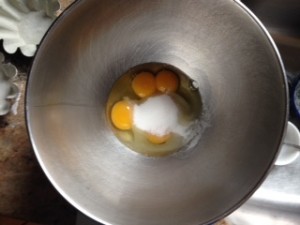 Beat eggs, egg yolks, and butter in the bowl of an electric mixer for several minutes until light and thick.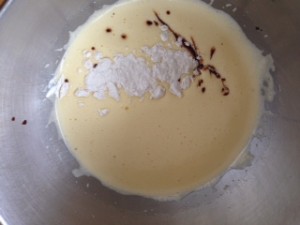 Add the melted chocolate and flour and stir to combine.  This can be done using the paddle attachment, but is faster using a spatula because the chocolate/butter is heavier than the egg/sugar mixture and tends to sink to the bottom of the bowl.  Using a spatula, you can lift the chocolate over the egg mixture.  This takes just a few strokes.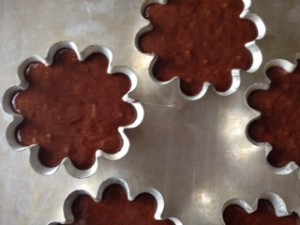 Divide batter evenly among the molds or ramekins.  I love to use these little brioche molds, but ramekins work equally well: Chef Rostang uses ramekins.  The recipe can be made to this point hours ahead of when you want to serve them.  Just hold them in the refrigerator, or cool room temperature until you need them.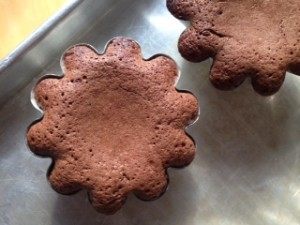 Bake the cakes at 450 degrees for 6-9 minutes.  In my oven, it takes 8 minutes for the cakes to be done on the outside, but still liquid in the middle.  Experience and repetition will help you know how long it takes to bake these in your oven.  This repetition will not be a chore; your family will enjoy your efforts to discover the timing in your oven.  Watch for the edges to be slightly risen and set and for the middle to still be slightly depressed and show some movement.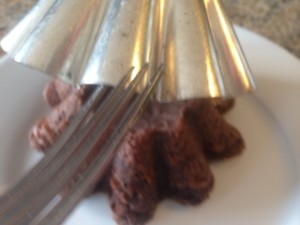 As soon as you remove the cakes from the oven, invert the cakes onto the serving plates.  Once they are all inverted, carefully lift the mold from each cake.  If you have buttered and floured well, the molds will lift right off.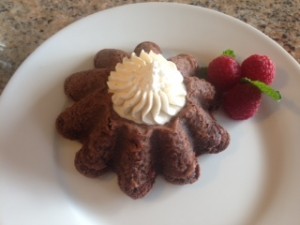 Serve with a dollop of whipping cream or a small scoop of ice cream and a few berries.
Ingredients
1/2 cup unsalted butter, sliced into quarter-inch slices, plus more for the molds
2 teaspoons all-purpose flour, plus more for the molds
8 ounces high quality bittersweet chocolate such as Callebaut, chopped
2 whole large eggs
2 yolks from large eggs
1/4 cup sugar
Instructions
Heat oven to 450 degrees. Butter and lightly flour six 4-ounce molds, ramekins or custard cups. Tap out excess flour and set aside.
Place butter and chocolate in the top of a double boiler or heat-proof bowl and set over a pan of simmering water and heat until the chocolate has almost completely melted. Take off heat and cool slightly.
In the bowl of an electric mixer fitted with the paddle attachment, beat together the eggs, yolks, and sugar until light and thick, several minutes.
Add melted chocolate mixture and flour; beat to combine. Divide batter evenly among the molds.
Place filled molds on a baking sheet, and bake until the sides have set but the centers remain soft, 6-9 minutes. Begin checking after 6 minutes. The top should look dry, but the center should still have movement when shaken. Check each minute until done.
Invert each mold onto a plate and let rest 10 seconds. Unmold by lifting up on one side of the mold; the cake will fall out onto the plate. The cakes should hold their shape, but the inside should still be soft, even slightly runny. Serve immediately, with whipped cream or vanilla ice cream, if you like.
http://inthechairs.com/french-favorite/