As a mother with daughters, there were a few years in which I spent a lot of time playing dress-ups and having tea parties.  And we baked a lot of tiny little things for our diminutive tea dishes: miniature cinnamon rolls, tiny cookies, 3/4 inch squares of brownies, fruit skewered onto toothpicks, and wee scones.  Scones, like the Brits have rather than the fried dough version popular in the mountain west, are highly favored, in almost any flavor, by everyone in the family.
This last summer while we were on a family reunion vacation, my daughter Jane, a terrific cook,  baked cream scones for us one morning, with raspberries and white chocolate.  Popular demand had her mixing up another batch the following morning, and again the morning after that.  It was as though we were rediscovering a forgotten favorite.  The basic recipe comes from The New Best Recipe Cookbook from the editors of Cook's Illustrated, and it can be adapted to numerous variations.  White chocolate and raspberries is always a good idea.  Although today, in the absence of any fresh raspberries, I am using chopped crystallized ginger.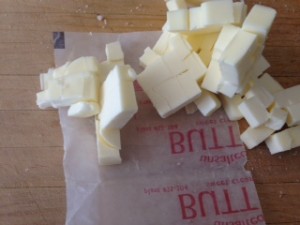 Start by cutting cold unsalted butter into quarter-inch cubes.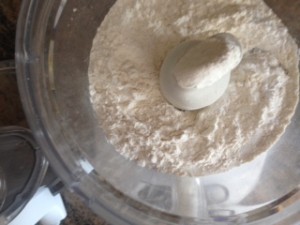 It is fastest to use a food processor, 12 one-second pulses to mix the cold butter into the dry ingredients.  This can also be done with a pair of knives or a pastry blender, or even your fingers if you are quick and keep the butter bits insulated from the heat of your fingers with a layer of flour.  Pass your thumbs over the pads of your fingers in quick movements to flatten the butter bits.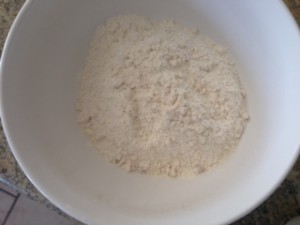 If you have used the food processor, pour the resulting mixture into a bowl for the next step.  The bits of butter should still be apparent and slightly smaller than peas.  Add mix-ins at this point (like nuts or chocolate chips or dried fruit or crystallized ginger or berries).  Pour the cream into the bowl and mix gently until the mixture begins to come together, then turn it out onto a counter, floury bits and all and knead just a few times gently to bring the dough into a cohesive mass.  This takes extreme care if you are using fresh berries to prevent excessive crushing of the fruit.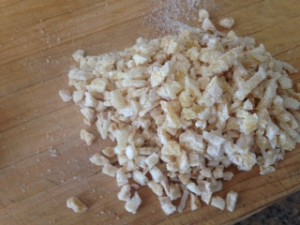 This is half a cup finely chopped crystallized ginger, yum.  Just try not to snitch.  If you want to make the raspberry and white chocolate chip variation, add 1/2 cup fresh or frozen, but not thawed, raspberries and 1/2 cup white chocolate chips.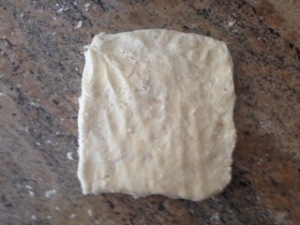 Pat the dough into an 8-inch square about 1/2 inch thick.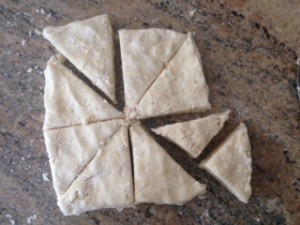 Cut the dough square into individual scones.  Normally, this quantity of dough would yield 8 triangular scones, although 9 squares is just as easy.  Because I am talking about tea parties, I decided to cut each of the eight scones in half to get 16 smaller scones.  I like to brush the tops of the scones with cream and sprinkle with a bit of raw sugar.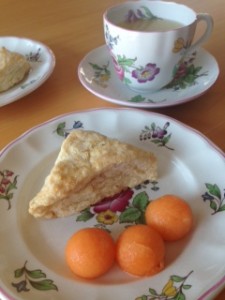 Invite a friend to share.
Cream Scones with Crystallized Ginger
Ingredients
2 cups (10 ounces) all-purpose flour
1 tablespoon baking powder
3 tablespoons sugar
1/2 teaspoon salt
5 tablespoons cold, unsalted butter, cut into 1/4-inch cubes
1 cup heavy cream
1/2 cup chopped crystallized ginger
Instructions
Adjust an oven rack to the middle position and heat the oven to 425 degrees.
Place the flour, baking powder, sugar, and salt in a large bowl or the work bowl of a food processor fitted with the metal blade. Whisk together or process with a few 1-second pulses.
If making by hand, use two knives, a pastry blender, or your fingertips and quickly cut in the butter until the mixture resembles coarse meal with a few slightly larger butter lumps. If using a food processor, remove the cover and distribute the butter evenly over the dry ingredients. Cover and process with twelve 1-second pulses. Add the crystallized ginger and quickly mix or pulse one more time. If using fresh berries, don't process, just fold in gently. Pour contents of food processor bowl into a medium bowl.
Stir in the heavy cream with a rubber spatula or fork until the dough begins to form, about 30 seconds.
Transfer the dough and all dry flour bits to a countertop and knead the dough by hand just until it comes together into a rough, slightly sticky ball, 5 to 10 seconds. Cut the scones into 8 wedges and place them on an ungreased cookie sheet. Bake until the scone tops are light brown, 12 to 15 minutes. Cool on a wire rack for at least 10 minutes. Serve warm or at room temperature.
http://inthechairs.com/tea-party-anyone/