I realized long ago that if I shopped with grocery list which had been created using my menu plan for the week, I spent a lot less at the grocery store.  Over the years, I have become reasonably good at this, and even added a few other habits like buying two when I finished one of basic pantry items which I like to keep on hand.
I have friends who have a house full of picky eaters and stick to basically the same meals that everyone in their family can deal with.  This makes weekly shopping from a list even easier, but  my children were reasonably adventurous as eaters, and so there has always been a lot of variety in our diet.  Very occasionally I try a new recipe and think, "I could eat this every week!"  This is one of those recipes, especially since it is so easy to substitute whatever vegetables you happen to have on hand.  I actually prefer this salad without the chicken, but my student athlete needs that protein.  It would be simple to substitute tofu for the chicken, if you prefer.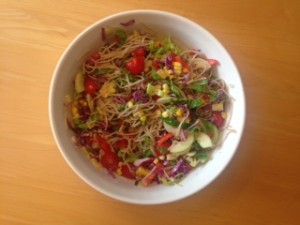 Ingredients
For the Salad:
6 ounces soba noodles
2 cups red cabbage, thinly sliced
1 cooked cob of corn, kernels sliced off
1 yellow or orange pepper, cored and sliced
1 cucumber, deseeded and julienned
1 pint cherry tomatoes, halved
1 head romaine, shredded
1/3 cup roughly chopped cilantro
1/3 cup sliced green onions
1 cooked chicken breast, shredded (optional)
For the Dressing:
1/3 cup rice vinegar
1/3 cup vegetable oil
2 tablespoons sugar
1 - 2 tablespoons Sriracha
2 tablespoons toasted sesame oil
salt and freshly ground pepper
1 tablespoons toasted sesame seeds
Instructions
Cook the soba according to the package and rinse in cold water. Drain well. Whisk together the dressing ingredients, taste and adjust seasonings. Toss together with the noodles and vegetables, taste and adjust seasonings once more.
http://inthechairs.com/the-same-meals-every-week/