Years ago, when my children were young, I was a regular subscriber to Family Fun magazine.  We tried many of their recipes and crafts.  This recipe for gingerbread letter cookies has become a tradition in our family.  We always make them the week before school starts, which, in New York is the first week of September.  This recipe makes A LOT of cookies, and we like to share our letter cookies with some of our young friends who are starting school and other young friends and cousins.  This year we had some cousins stop in for lunch on their way through town on Labor Day.  Their timing was perfect for helping us with these cookies.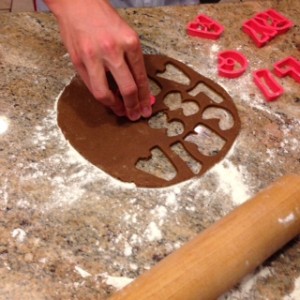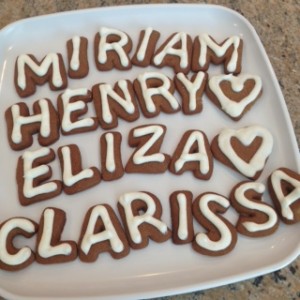 Gingerbread Letter Cookies
Ingredients
1/2 cup butter
3/4 cup brown sugar
2 eggs
1/2 cup molasses
1 tsp. vanilla
3 1/2 cups all-purpose flour (you may substitute up to half white whole wheat flour)
1 tablespoon cinnamon
1 teaspoon ground ginger
1 teaspoon baking soda
1/2 teaspoon salt
Cream Cheese Frosting:
6 ounces cream cheese
4 cups confectioners' sugar
8 tablespoons unsalted butter, at room temperature
1/2 teaspoon vanilla or 1 teaspoon lemon rind
Instructions
In a large bowl, cream the butter and brown sugar. Beat in the eggs one at a time. Mix in the molasses and the vanilla extract.
In another bowl, combine the flour, cinnamon, ground ginger, baking soda, and salt. Add the flour mixture to the butter mixture a little at a time, stirring well after each addition. The dough is very sticky. Cover the dough and chill for at least 2 hours.
Heat the oven to 350 degrees. On a floured surface, roll the dough flat to a 1/4-inch thickness. Cut out letters. Place cookies on slightly greased baking sheet. Bake for about 10 minutes or until the cookies are set. They should still be a bit soft to the touch, but not doughy.
To make frosting, beat the butter and cream cheese until smooth and uniform. Add the confectioners' sugar and vanilla or lemon rind, and beat until the frosting is very smooth. Transfer frosting to a decorating bag and pipe letter shapes on top of cookies.
http://inthechairs.com/tasty-spelling/