According to my calendar, we are more than six weeks past that day back in early February when  the groundhog saw his shadow, and signs of spring should be popping up everywhere.  Here in the northeast, however, where we had the coldest February since 1894, with the average daily temperature at right around 10 degrees, there is still a little snow on the frozen ground, and temperatures are in the teens when I drive my son to school in the mornings.
There have been just a few indications that winter might be losing its grip: One of my friends spotted a robin the other day, another reported that the crocuses are starting to pop up at the school, and  just this last weekend marked the beginning of the farmer's market in our town.  I walked through the market with my daughter and saw mostly root vegetables which have spent the winter in cold storage, some jams and preserves, and a few baked goods.  With the ground still frozen here, it will be many weeks before the farmers have fresh produce to sell.
Even though the weather still says winter, we have had enough of hearty winter fare, and long for the fresher, lighter options that are sufficiently satisfying in more temperate weather.  One of our favorite lighter soups is chicken ramen, not the college dorm room staple, but a broth fragrant with ginger and rich with vegetables and chicken.  It won't be as quick to prepare as the package, but can be composed in about 30 minutes, and will be well worth the effort.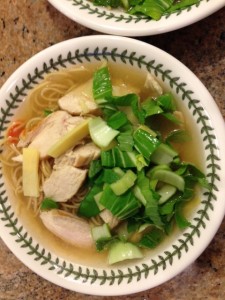 This soup is great for picky eaters as it is composed in the bowl rather than cooked all together, and the vegetables are easily identified and avoided.  Their mere presence in the bowl satisfies me that they are imparting some of their goodness to the whole, even if they are still there when I rinse the leavings away.
The recipe is for chicken ramen, but I made it recently with some leftover soy-glazed pork which I sliced thinly as a tasty and more flavorful substitute for the chicken.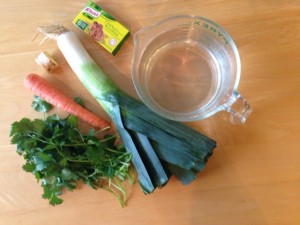 Be sure to clean the leek carefully:  cut in half the long way, and use your fingers to fold the leek back on itself so that the layers open up.  Then hold the leek under running water for several seconds so that and sand is washed away.  Then cut the leek along its length again before cutting into half-inch lengths.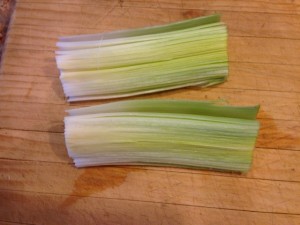 I had to buy a bundle of three leeks.  Since leeks are nearly always cooked in recipes, the extra leeks can be washed, diced, and stored in the freezer until you have another recipe that calls for leeks.  In addition, you will have lots of bamboo shoots left from the opened can.  These may also be frozen until the next time you make ramen.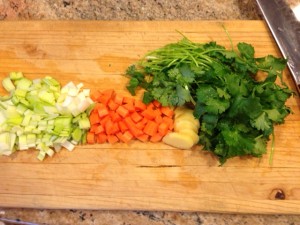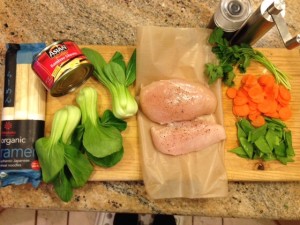 Ingredients
For the broth:

2 Knorr Chicken Cubes
1 leek, finely chopped
1 carrot, roughly chopped
1-inch piece fresh ginger root, roughly chopped
1/3 a bunch of cilantro
4 1/2 cups water

For the filling:

2 boneless, skinless chicken breasts
a slick of vegetable oil
6 ounces ramen noodles
1 carrot, sliced with a vegetable peeler
a handful of sugar snap peas, or pea pods,sliced diagonally
2 baby bok choi, trimmed and roughly chopped (or two handfuls of baby spinach)
2 tablespoons bamboo shoots, from a can of sliced bamboo shoots
4 scallions, white and light green parts, sliced thinly
Instructions
To prepare the stock, place the water, chicken cubes, leek, carrot, ginger, and cilantro in a medium saucepan over medium high heat and bring to a boil. Simmer, covered, while you prepare the other ingredients.
Bring a large pot of water to a boil for cooking the noodles.
Preheat a saute pan over medium heat. Lightly season the chicken breasts saute for about 4 minutes on each side, or until cooked through. Let rest for 5 minutes. Cut into thin slices on the diagonal and set aside.
Cook the noodles for 2-3 minutes until just tender. Add the carrot slices and pea pods at the very end, just to blanch. Drain, and rinse under cold running water, and divide between 3 bowls. Top with the bok choi. Strain the solids out of the stock and ladle it into the bowls. Top with chicken slices, bamboo shoots, and scallions.
http://inthechairs.com/soup-for-spring/